Review – Great Seducer / Tempted (to Fast Forward)
Full disclaimer – I adore the male lead in this show.  Even if his character is immensely boring, as it was in this drama.  Even if his usually shining star seemed dim playing a conflicted, conceited Lothario.  Even when he tried to convince the audience that rich kids have problems too… just not money problems, which is the vast majority of life's problems, but, ya know… problems.  Even though this show kinda sucked, I still liked it.  Such is the power of Woo Do-Hwan.  I'm just a fan.
This show was an odd, very loose adaptation of the old Les Liaisons Dangereuse by Pierre Choderlos de Lacios.  What?  Not familiar with that 18th century French novel?  What about the play?  What about… Dangerous Liaisons, the fantastic 1988 movie with Glenn Close?  Or Valmont in 1989?  No?  Okay… Cruel Intentions in 1999?  Untold Scandal… the 2003 Korean movie?  The 2012 Chinese version?  It's a popular story.
The plot (of Dangerous Liaisons) is simple:  Two very rich and powerful people are friends, skirting around some powerful attraction to one another.  They are both shameless sexual deviants, having affairs left and right with no real feelings for the people they are sleeping with.  When the woman is jilted by her lover for another woman, her pride is hurt and she concocts a revenge scheme… ruin the reputation of her sweetie's new sweetie.  It's a very passive aggressive move.  She enlists the help of her bestie to seduce this new woman, offering herself as the reward for a job well done.  Everything goes to hell once her bestie falls in love with this conquest… ruining all their lives in epic proportions.
It's a great story, honestly, who isn't fascinated by the idea of sex as a weapon – and worse, love as a game.  It's a story about cruelty for pleasure, about deep insecurities, about those with power using it shamelessly over those without.  It's funny, sexy, and… a tragedy.  Because if you start to care about your prey… it's no longer the same game.  You'll have a hard time serving the family dog for a holiday meal, ya dig?  Once you love them, to destroy them is to destroy yourself.  If you haven't seen the 1988 movie version, do yourself a favor… Glenn Close is the master at playing a cruel bitch.  Though for camp value, the 1990s Cruel Intentions is also fun.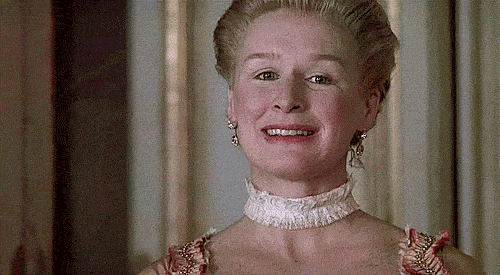 This drama takes the Dangerous Liaisons story and adds a bunch of unnecessary story lines – unrequited love between parents, another leading male, some teen sob stories, a few tangled connections and angles that do nothing to enhance the classic tale of sex and heartache.  It attempts to make the villains, aka the leads, sympathetic… which declaws the beast.  It doesn't really make us love the bad guys or the good guys… everyone is just lounging around in the middle.  The power of the original story is that the two leads are total assholes – just terrible, terrible people –  and having one of them fall in love shatters their delicate world of manipulations and smug, shameless conduct.  That in fact, they are their own worst enemies.
This show wants to play it nice.  It's not a morality play, it's a teen romance.
So instead of being a fantastical, K-world version of the centuries old, beloved and wicked classic Dangerous Liaisons, it's more like a few episodes of Gossip Girl.  And there's nothing wrong with Gossip Girl.  Sometimes you just want to watch beautiful rich people run around and be mean, then nice, then mean, then nice to each other and know it will all work out in the end.  Fans of Gossip Girl will love this.
Overall Rating – 7.5/10.  Basically a Few Episodes of Gossip Girl, K-Style.